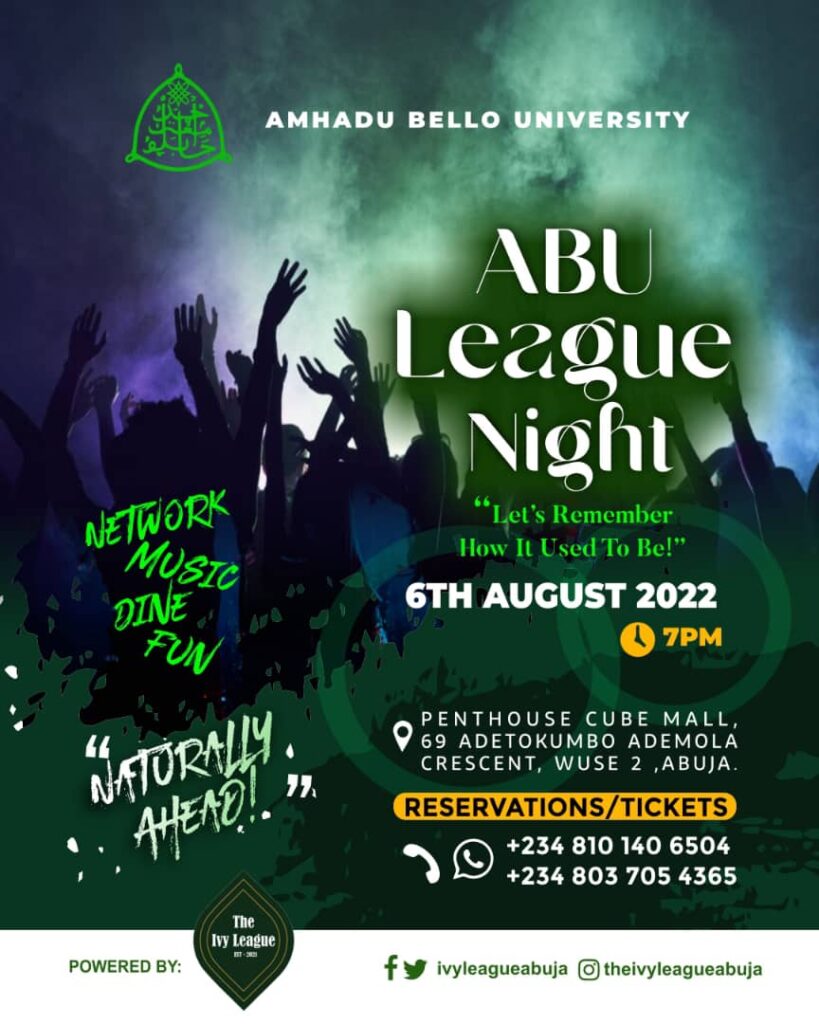 Are you an Abusite? An abusite is a student or graduate of Ahmadu Bello University. There is a saying that goes along the line of  "An abusite is smarter than any other student or graduate from another university"
Would you love to be reminded of the way it used to be back then in ABU Zaria. So many years have passed away since we graduated and the memory of the years we spent in ABU Zaria never leaves us. There are so much to remember, just like the Hostels, Cafeteria, Social Programme, Academics, Lecturers, Student Unions, Parties, the Popular slang, Dress code, Celebrity of our set, Best Class, Awards, Popular Music back then and so much more to remember, that's why the Abusite are "Naturally ahead".
This is why the Abu Alumni (Abuja Chapter) have come together to create a distinctive Social Interactive Dinner Party called the "ABU LEAGUE NIGHT", powered by The Ivy League Restaurants & Lounge, Wuse II, Abuja, supported by many other brands.
Its gonna be a Night to remember the way it used to be , featuring lots of activities like Special Recognition, Speeches from Prominent Abusite Members, Mentorship from Special dignitaries from all works of life.
Other Interesting activities includes: Special Performance by Popular Abu Alumni Artist, Dancing, Comedies, Karaoke, Games, Drama, Photo session and so much more activities to fill the Night with lots of happiness.
DRESS CODE: Touch of ABU Green and White
DATE: 6TH, AUGUST, 2022
TIME: 7PM
Ticket Prices
GOLD TICKET: N50,000
SINGLE TICKET: N30,000
(Availability of ticket is limited, we advice you book early)
For Ticket Reservation
Whatsapp/Call
+2348101406504
+2348037054365
VENUE: Cube Mall, 69 Adetokunbo Ademola Crescent, Wuse II, Abuja